Venue
The workshop will be held on May 2-3, 2023, at the "Hermitage Resort & Thermal SPA", located in Via L.do Mazzella 80, Ischia Island, Naples (Italy).
Special rate for workshop participants are available.

The "Hermitage Resort & Thermal SPA" reserves about 20 rooms for the conference participants, it is possible to book a room directly contacting the Hotel https://www.hermitageischia.it/
Telephone number +39 081984242

E-mail info@hermitageischia.it

"Holiday web tour" operating on Ischia Island can help in arranging your staying and journey. Please, contact them quoting ARS23-FedericoII
Telephone number +39 3467280941

E-mail

francesco@holiday-web.it

Please, be aware of e-mails from other tour operators, they are not allowed to contact you from us.
---
How to reach Ischia
First of all, you must arrive in Naples by plane at the International Airport of Naples (Capodichino) or by train at the Central Station (Stazione Centrale/Piazza Garibaldi) and then you must take a boat.
At THIS LINK you can find the timetable and the price of ferries/hydrofoils to Ischia:. choose as a destination "Ischia Porto" (NOT "Ischia Forio" and "Ischia Casamicciola").
Be careful when you buy the ticket because Naples has two ports "Molo Beverello" and "Calata Porta Di Massa"!
From the Airport you can easily take the shuttle bus ALIBUS and stop at one of the two ports "Immacolatella/Porta di Massa" or "Molo Angioino/Beverello (terminal Stazione Marittima)" ALIBUS link.
From the Central Station you can take the tube Line 1 (Metro linea 1) and stop at "Università" if you depart from "Calata Porta Di Massa" or at "Municipio" if you depart from "Molo Beverello" METRO LINE 1 link.
---
What to see in Ischia
There are so many things to see in Ischia and different parts of it will appeal to different people. For many, it's the island's beaches as it has more than 20 beautiful beaches, but beyond the beaches, there are many other attractions below we will mention the most known ones:
Is a medieval castle located in Ischia Ponte and is perhaps the most iconic and intriguing of all Ischia's sights. It dates back nearly 2,500 years when the original fortress was built by Hiero I, a tyrant from the Sicilian region of Syracusa. Castello Aragonese offers a fascinating glimpse into the history of the island as well as providing a beautiful addition to the landscape.
For more information see the following LINK
Thermal spring of Sorgeto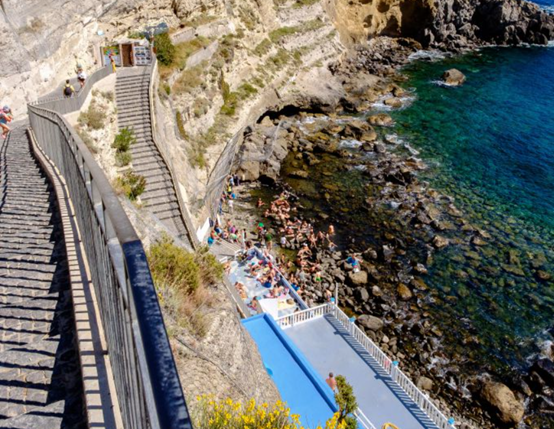 Sorgeto is an inlet with pebbles and thermal springs. Sorgeto is a cove, the location of a true, outdoor thermal park. Small boiling fountains and minerals, saunas and therapeutic vapours are available for free for all those who are looking for a place to reinvigorate themselves from the daily stress and hardships. It is accessible both by sea and on foot via a steep ramp of stairs from the village of Panza.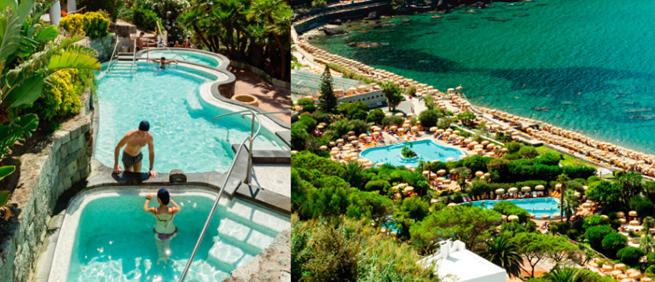 There are two very large and beautiful thermal parks in Ischia
Poseidon:
Over 20 pools overlooking the beautiful Bay of Citara GIARDINI DI POSEIDON.
Negombo:
Lying in the San Montano bay, immersed in a green area, it is a place of well-being characterized by a serene atmosphere NEGOMBO.
La Mortella (The Myrtle), is the former home of English composer Sir William Walton and his Argentinian wife, Lady Susana Walton. Shortly after World War Two, the couple moved to Ischia and eventually made their home on what is now the site of The Sir William Walton Foundation and La Mortella Gardens.
In 1956, after having spent the previous 6 years divided between 6 month stints in London and Ischia, the couple decided to buy their new property at La Mortella. Having understood the potential of the site, they decided to call in landscape expert, Russell Page, who set about transforming the stone quarry on a volcanic hill, into a tropical garden paradise with an extraordinary and fascinating array of rare and exotic plant life.
For more information see the link LA MORTELLA