Naples is the 3rd largest city in Italy, facing a beautiful bay surrounded by the islands of Capri, Ischia and Procida, and the Vesuvius volcano.
The conference will be held in the Conference Center of the University of Naples, in Via Partenope 36, on the Naples seafront facing the Castle (Castel dell'Ovo).
You can find a map of the city center at this link where the conference hall is labeled Centro Congressi via Partenope 36.
There are plenty of things to do, visit and eat in Naples and its surroundings, due to the millenary history of the city and its role as a rich Greek colony first, an important Roman port, and finally the capital of the largest Italian kingdom.
Travel to Naples
By air:
The Naples airport is named Capodichino, and it is located only 10 km from the city center. It is connected to Rome, Milan, Paris, Munich, London and many other European hubs. From the airport the city center is easily reached by cab or by bus (there is no metro to/from the airport). The bus from the airport is named Alibus (web page is in Italian but the links to the timetables are in Italian and English). Please visit the links above to the airport and Alibus websites for more information.
A viable alternative is to fly to Rome, and then take the high-speed train (Alta Velocità, see below) which will get you to Naples in about 1 hour 10 min. There is a train connecting the Rome airport and the train station every 30 min, and from there trains for Naples every hour. Please note that you need to book your seat in advance.
By train: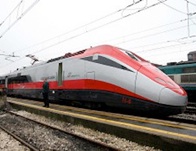 The Naples central station is well served by regular and high speed trains. To get schedules and fares please refer to the Trenitalia website, or to the Italo train.
Accomodation
June is high season in Naples, and Hotels are very busy, so we strongly advice you to book in advance.
The area around the Conference Hall provides many hotels and B&B, as can be seen on the map of the neighbourhood. The Chiaia neighbourhood (to the west of the Conference hall) is a nice and safe shopping area. A viable alternative is to get an Hotel in the City center to the East, and reach the Conference Hall by foot or bus.
We did not prepare a list of suggested hotels and B&B since nowadays people can find ample offer online. However, if you need help or suggestions, we invite you to contact the LOC.
Lunches and coffee breaks
Coffe breaks will be served at the venue; lunches are not included but there are plenty of restaurants in the area. A small, and not at all comprehensive, selection is shown here.